Today saw Litecoin hit a high in price that it has not seen since May of 2018 as the whole market saw a bit of upswing. Meanwhile, Charlie Lee was on twitter showing statistics to highlight how Litecoin should still be profitable to mine after the halving that is coming in about 2 months.
Today Litecoin hit a high of $129.51, a price that the coin has not seen since May 22nd of 2018:
                                                     LTC/USD Chart provided by Tradingview
The upswing comes as most of the market has seen growth today, but as has often been the case, Litecoin is standing out.
In somewhat related news, Litecoin's creator, Charlie Lee, took to twitter today to show off some statistics that highlight how mining Litecoin should still be profitable after the upcoming halving event, when block rewards are reduced by 50%. According to these stats, after the event miners could still make upwards of $2.65 in profit per day, assuming a maintained low cost of electricity.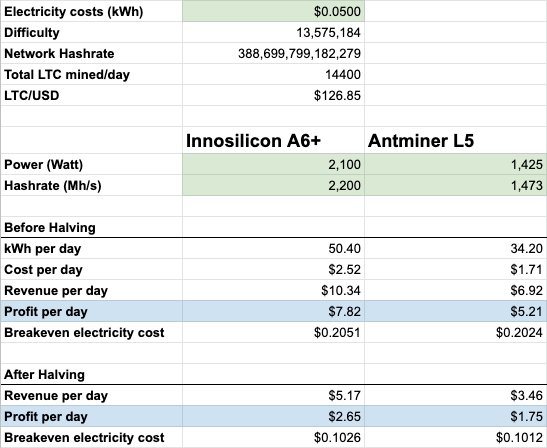 Here are some stats on mining profitability. After halving, miners are still profitable with electricity under 10¢. Many are paying only 5¢ and therefore should keep mining LTC post-halving. (
https://www.
longhash.com/news/f2pool-ex
clusive-chinese-electricity-for-mining-costs-between-04-to-06-usd-per-kilowatt 
…)
Some have pointed out that with a firmware update many miners can see profits even better than what Lee has calculated
All of this bodes quite well for the silver to Bitcoin's gold. Can Litcoin keep up the pace or will we see a major retracement soon? Stick with Chepicap for all updates!